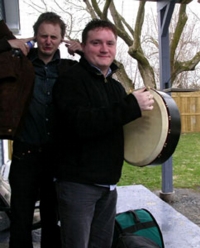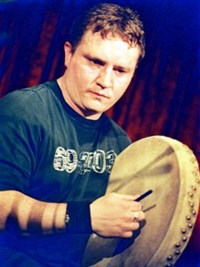 John Joe Kelly, All Ireland champion bodhrán player and member of the Irish "Flook" owns four Hunter Tippers.
Thank you, Mr. Kelly!
[webmaster's note: though I've never had the pleasure of meeting the man,
out of deep respect for his talents,
I hereby dub this montáge,]
"A Bodhránist for All Seasons"
[all John Joe Kelly and Flook photos used by permission]
Tommy Kochel is
a college professor,
a professional bodhránist
of almost 20 years' experience,
and the webmaster of huntertippers.com
in south central Pennsylvania;
Tommy owns four Hunter tippers
(including one with silver inlay
by Ira McWilliams),
and though he has owned
many a bodhrán over the years,
he currently plays only two
custom Hedwitschaks - one DSDT in padauk; one "MyOwnSpecial" bejeweled with silver knotwork pieces by MacManus and Sons of Berkeley, CA.
To read more about Tommy,
click on the photo to the left;
to read more about Tommy's bands,
click over there —>
Tommy plays with his band on a regular basis:
KnotWork


("folk music of Celtic origins")


a trio of musicians playing fiddles, guitars, mandolin, octave mandolin, Irish bouzouki, wooden flutes, wooden whistles, banjo mandolin, hurdy gurdy, bodhráns & bones, bass guitar, vocals and soon Northumbrian smallpipes.
Click on the name of the band above
to read more and listen to the music